Free trade has devastated Ghana's economy, farmers say
A rice farmer in Ghana thrashes.
ASHAIMAN, Ghana _ At a time when the Live 8 concert organizers are building pressure to lift Africa out of poverty, Kenneth Quartey says the rich nations of the world are forcing his country to its knees.
Quartey, who owns one of West Africa's largest poultry farms, says he is no longer able to compete with imports of frozen chicken that have flooded Ghana since this nation of 21 million people agreed to allow free trade. Ghana lowered tariffs and cut agricultural subsidies in the 1990s as a condition of receiving debt relief from international lenders.
Rather than stimulating the Ghanaian economy and boosting employment, Quartey says, free trade has devastated Ghana's farmers. In the last two years, he has laid off a third of the 150 employees at his farm in this town 30 miles east of the capital of Accra. His poultry farm no longer produces broilers, only eggs.
"What you're breeding is a culture of dependency," said Quartey, head of the Ghana National Association of Poultry Farmers.
The complaint from Ghanaian poultry producers is not limited to a single agricultural commodity, nor to a single country. Across much of the developing world, farmers are under siege by imports of meat and grain from rich nations that can afford to subsidize their agriculture, say the farmers and international advocacy groups such as Oxfam. The effect is acute in Africa, where most of the continent's people work as small farmers.
When the Group of Eight industrialized nations meets in Scotland next month, it will consider Africa's call for more flexibility to protect the continent's agricultural economies. British Prime Minister Tony Blair, who has embraced assistance to Africa as a major theme this year, has proposed that the rich nations confront the major obstacles preventing Africa's poorest nations from emerging from poverty, including high debt and trade inequities.
Hens packed into cages at Ken Quartey's farm.
Organizers of the Live 8 concerts Saturday in Philadelphia and Europe aim to generate political pressure on the G-8 nations to come to Africa's aid.
"Why are we suffering?" said Paul Akpabi, a rice farmer in Dawhenya who struggles to compete with 30-cent-per-pound rice imported from Asia and America. "Maybe the international lenders want us to be totally dependent upon them." Ghanaians can pay more than $3 per pound for locally grown rice. (The average U.S. price last month for white, long-grain rice was 55.2 cents per pound.)
Advocates of free trade argue that Ghana and other small countries benefit from the lower prices that result from a liberalized economy. Lower food costs translate into a lower cost of living, which allows people to spend money on other things - theoretically spurring the economy.
"Ultimately in the process of economic growth, industries are going to start up and industries are going to collapse," said Mahamudu Bawumia, special assistant to the governor of the Bank of Ghana. "But you don't want to build an economic policy on helping certain industries as the ones that cannot fail."
But groups such as Oxfam, which have taken up the cause of fair trade, say it is unfair to expect Ghanaian farmers to compete with imports from large, mechanized farms in industrial countries that have benefited from years of government subsidies. The U.S. government subsidizes rice growers at a cost to taxpayers of more than $1 billion a year, Oxfam says.
While those subsidies result in cheap imports for countries such as Ghana, advocacy groups say the trade-off of lost jobs is not worth it.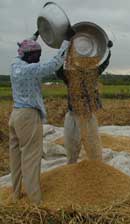 Women in Ghana's rice fields.
"Consumers in Ghana getting cheap food is kind of a sick joke, really," said Andrew Pendelton, an organizer for Christian Aid, the charitable arm of British mainstream Protestant churches that has championed the cause of Ghana's poultry producers.
Christian Aid has organized protests in which demonstrators dressed in chicken outfits greet the British prime minister at public events.
In a nation where rice and chicken are standard dinner fare, the struggle for the Ghanaian poultry market has literally taken to the streets, where giant billboards in Accra advertise the wholesomeness of American fowl.
At the Francopat Co.'s cold-storage facility, individual buyers line up to get wholesale frozen chicken parts in 22-pound cartons. Almost all of the imported poultry is the meat that is less popular in industrialized countries - wings, thighs, legs, backs and necks.
At Kaneshie Market, sellers of live chickens complain that few consumers are willing to pay the premium for fresh chickens, even though the locally grown birds are regarded as more flavorful. Most buyers stood in queues at the booths where sellers hacked up bricks of frozen poultry.
"Buyers want the best price," said Richard Osei-Tuffour, who sells frozen chicken at less than $1 a pound. "Our incomes in Ghana are quite low."
After imports of frozen chicken soared from about 5,000 metric tons in 1998 to 30,000 tons in 2001 and Ghanaian farmers began abandoning their farms, Ghana's Parliament approved doubling the 20-percent import tariff on poultry to protect local producers. Rice tariffs were increased from 20 percent to 25 percent. But the government backed down after international lenders exerted pressure to refrain from erecting the trade barriers.
While larger countries such as Nigeria have virtually banned imports of frozen poultry to protect their domestic producers, Ghana is more dependent on international lenders. Under the Highly Indebted Poor Countries initiative, established by the International Monetary Fund and the World Bank, Ghana is receiving debt relief on the condition that it use the savings on social programs and that it open up its markets to free trade. Ghana has also phased out subsidies on fertilizers, pesticides, fuel, electricity and water that were designed to help local growers.
"With high tariffs, we will never learn to compete in the global market," said Bawumia, of Ghana's central bank.
For a small producer like Emmanuel Akuffo, who raises corn and chickens on a five-acre farm near the port city of Tema, the competition is painful. He lost $2,000 on the last brood of chickens he raised, some of which remain in cold storage until the price improves. His current batch of 1,000 birds is promised to a local buyer, but at a lower price than in the past. He worries that the $16,000 he invested in his operation in the last four years may be lost.
"Actually, I think I'm in the wrong business," said Akuffo, who received college training in agronomy. "But I've invested so much. It's very discouraging."