Andrew Maykuth Online
The Philadelphia Inquirer
September 8, 2005
Rebuilding New Orleans
Who returns may determine what city becomes.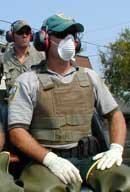 Louisiana law enforcement officers search for flood survivors.
BATON ROUGE, La. -- Shakietha Woodard has no desire to return to New Orleans after Hurricane Katrina swamped her apartment in the suburb of Kennar.
"Move back? Why?" said Woodard, 29, who has one child and is pregnant with a second. "Even when New Orleans was together, there was no way to make money. I'm going to move to Texas and find opportunity there."
Woodard, who was among more than 4,000 displaced residents encamped on cots yesterday in a convention facility not far from Louisiana's capital, was hardly the only evacuee who had little stomach to return to the swamped city.
"A fairly large number of people say they don't want to go back," said Dick Burch, a spokesman here for the American Red Cross. "They don't want to go through this again."
While relief officials cope with the immediate needs of hundreds of thousands of Katrina victims, some experts are beginning to ponder the longer-term options for one of America's most fabled cities, now a mud-covered ghost town.
No doubt New Orleans will be rebuilt. But the form it takes will depend largely on how many of its more than 450,000 residents return.
"About half the dispersed population is likely never to come back," said Mary Comerio, a University of California, Berkeley, architecture professor and author of Disaster Hits Home, a book on disaster recovery.
"People who have a financial interest in the city - they own land or work at Tulane University or a hospital - have a reason to come back," she said. "Young people who aren't so tied to the city will move on. The elderly will go on with their lives in a new place rather than invest the next 10 years of their lives to rebuilding.
"It will change the character of New Orleans, no question," she said. "Inevitably, it will be smaller."
While the dislocation of an entire city has prompted some commentators to call for reconstructing New Orleans on higher ground - or abandoning it altogether - most experts say the city probably will redevelop much along its current design.
"Generally, cities will rebuild pretty much the way they were," said Robert Olshansky, a professor of urban and regional planning at the University of Illinois Urbana-Champaign. "Some people think suddenly it's a blank map. But it's not. People still own all those pieces of land and have strong social ties to the area."
The French Quarter will undoubtedly be restored, and downtown buildings are largely intact. Tourism, shipping, and oil and natural-gas interests have a deep investment in the area and will want a population nearby to serve them. But some businesses that could easily be elsewhere may move on rather than redevelop.
Some academics fear that if the population of New Orleans changes too dramatically, the city's unique culture will become a museum piece to benefit the tourist trade.
"The reason the world loves New Orleans is because of its culture, created by the diversity of its people," said Shirley Laska, director of the Center for Hazards Assessment, Response and Technology at the University of New Orleans. "If you don't find a way to build a New Orleans that sustains that culture, then all you've done is to just build a Disney World."
There are few comparable experiences for leaders of New Orleans to follow. Chicago rebuilt after the 1871 fire, and San Francisco prospered after the 1906 quake, but both disasters occurred during the industrial age, when American cities were expanding dramatically. New Orleans, by contrast, has been shrinking for four decades and has few long-term prospects for growth, as vulnerable as it is to the rising sea level.
"In rebuilding or restructuring the city, there's a real question whether they need to rebuild it as it was before," said Kenneth L. Kusmer, a history professor at Temple University who specializes in urban social history. "You don't need to have centralized cities anymore."
Klaus Jacob, a geophysicist and senior researcher at Columbia University's Lamont-Doherty Earth Observatory, said New Orleans would all but disappear in 100 years, after the petroleum reserves in the Gulf of Mexico were depleted, the city sank deeper, and sea levels rose with the onset of climate change.
"We have to think long-term," Jacob said. The policies set by Washington to rebuild New Orleans will have implications for other cities such as Miami, Sacramento, Calif., and New York that are in the path of storms or rising sea waters.
"It's not just New Orleans that's at stake," he said. "We have to face up to the fact that we're losing land."