India's drug firms aim to compete with giants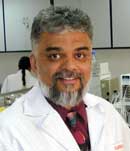 Kasim A. Mookhtiar
GURGAON, India -- Kasim A. Mookhtiar was living the dream of many young Indian scientists. He emigrated to America in the 1980s to attend graduate school, got hired to research drugs at a prestigious pharmaceutical company, and bought a comfortable house in Bucks County.
But after 11 years on the fast-track at Bristol-Myers Squibb's lab in Princeton, N.J., Mookhtiar last year returned to India to work for a company most Americans have never heard of, Ranbaxy Laboratories Ltd.
Though Ranbaxy is India's largest pharmaceutical company, it is small compared with big Western drugmakers, a number of which are in the Philadelphia region. Ranbaxy's main business is producing generic drugs. Its $1 billion in sales last year was less than half of the amount Bristol-Myers Squibb spent on research alone.
But the chemist is betting that India's pharmaceutical industry is about to undergo a massive transformation, following the path set by its burgeoning prowess in computer and back-office services.
"I saw an opportunity here," said Mookhtiar, 47, who lives in India and returns frequently to Richboro, Bucks County, where his mother and a daughter still live. "The Indian pharmaceutical industry is on the cusp of being a global player."
Long content to produce inexpensive clones of popular drugs discovered by big pharmaceutical companies, India's drugmakers are broadening their focus to become innovators in their own right. Indian companies hope that one day they might become formidable competitors to Western companies, producing their own blockbuster drugs.
Parity is still a long way off. But the shift is being driven by the expiration next year of Indian laws that encouraged companies to circumvent worldwide patents. India's new law, which brings it into compliance with treaties protecting intellectual property, prohibits copycatting medicines patented after 1995.
Companies such as Ranbaxy have been preparing for the new world order by increasing their spending on research, expanding the skills they have developed over decades of replicating drugs pioneered by big pharmaceutical companies. Scientists like Mookhtiar are being recruited to return to their native country to teach the science and business skills they picked up in places like America.
"Lots of expatriate Indians are coming back, especially as research opportunities tighten in Europe and America," said Ajit Dangi, secretary general of the Organization of Pharmaceutical Producers of India.
India has some built-in advantages over developed countries. It has an abundance of laboratories that meet U.S. Food and Drug Administration standards. And its technical schools churn out thousands of skilled chemists each year - by some estimates, Indian-born scientists account for 1 in 10 researchers at American pharmaceutical companies.
Dangi said that the Indian scientists can be hired there at about one-fifth the cost of their Western counterparts. "A freshly minted Ph.D. in India earns about $10,000 to $15,000," Dangi said.
Big pharmaceutical companies such as GlaxoSmithKline, facing costs of up to $1 billion to develop new drugs to replace medicines whose patents are expiring, are discovering potentially cost-effective partnerships with the Indian companies.
In October, Glaxo and Ranbaxy - frequent adversaries in patent litigation in the past - set aside their differences to collaborate on new drug discovery.
"We want to deal with companies with talent," said Rick Koenig, a Philadelphia-region spokesman for Glaxo's research division.
While the deal with the Indian company offers some chance for Glaxo to reduce costs, it was not the primary attraction, Koenig said. "Economics are a consideration, but the point should not be missed that at the heart of this is the opportunity to work with good chemists."
Glaxo, which is based in Britain, has a U.S. headquarters and 6,000 employees in Philadelphia. Ranbaxy researchers will develop compounds from Glaxo's vast library of patented molecules. If Ranbaxy develops the compounds into usable drugs, Glaxo will conduct the clinical trials and bring the medicines to market. The two companies will share the profits.
"GSK is good at identifying early chemicals with potential," said Mookhtiar, who is deeply involved in the partnership as Ranbaxy's vice president of new drug discovery research. "The strength we have is in the middle, taking that lead compound and optimizing it to find a compound that is safe and efficacious."
Ranbaxy will get more than profits out of the partnership. The Glaxo partnership will also help it build capacity for making homegrown drugs in the future, Mookhtiar said. "This will build Ranbaxy into something world-class," he said.
Other Western pharmaceutical companies are also exploring opportunities with Indian researchers.
"A number of companies have started to have collaborations with Indian companies because they see the potential as well as the cost efficiencies," said D.G. Shah, secretary general of the Indian Pharmaceutical Alliance.
"India is center stage now for a variety of reasons," said Brian Tempest, a British pharmaceutical veteran who is Ranbaxy's incoming chief executive. "Things are changing."
In the past, India's pharmaceutical industry freely copied new drugs within months after they were introduced in the United States or Europe, leading to a highly competitive domestic market with many versions of the same drugs selling for a fraction of their cost in the West.
"We can manufacture them very easily because of the strength of the Indian chemists," Tempest said. "And then we can take advantage of that when patents expire around the world."
But the low profit margins left Indian companies with little surplus to invest in research. While big pharmaceutical companies such as Glaxo spend upwards of 15 percent of revenue on research, Indian companies spent only 2 percent in 1995.
Ranbaxy has been gradually increasing its research budget - it spent about $60 million, or 6 percent of sales, last year and anticipates increasing that figure to 10 percent in 2007.
Most of Ranbaxy's research will be aimed at areas in which it expects it can compete - urological, infectious, respiratory and metabolic disorders.
A measure of its commitment is evident in the boom town of Gurgaon, outside New Delhi, where Ranbaxy already has three labs and is busy building a fourth - a 200,000-square-foot building to house 700 researchers.
Ranbaxy already has demonstrated its skill moving beyond generics. It created, for example, a once-a-day version of the Bayer antibacterial drug ciprofloxacin, which was licensed back to Bayer and earns Ranbaxy $500,000 a month in royalties, Tempest said.
But generics still will be a big part of Ranbaxy's business. India now produces about 22 percent of the world's supply of generic drugs and is expected to capture a third of the business by 2007, according to the Indian Pharmaceutical Alliance.
The Ranbaxy chief bristles when the growing reliance on Indian researchers is compared to outsourcing, saying that Ranbaxy is enhancing work done by Western scientists, not replacing them. "Bear in mind, these molecules, if they become a big molecule, go into full clinicals in the U.S., and a lot more employment will be created there," Tempest said.
But the growth of India's pharmaceutical companies does represent a evolutionary shift in the work being done in emerging markets like India, where domestic companies that previously were satisfied making knockoffs or working as contract manufacturers now expect their brands to become household names in the west in coming generations.
"It started with call centers, and expanded to software," said Dangi, the chief of the pharmaceutical producers group. "Now they're going up the value chain."