In Kashmir, small hope for end to bloody fight.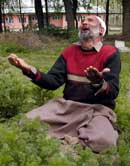 Wali Mohammed Khan
SRINAGAR, India -- Wali Mohammed Khan fell to his knees on the unmarked grave where he believes Indian authorities buried his eldest son.
"My son, why did the cruel and barbarous forces kill you?" the impoverished farmer wailed as he prayed over the earthen mound one recent morning.
His son Farooq, 22, was arrested by Indian security forces in August. A few weeks later, authorities claimed they had killed a "foreign terrorist" and published a photo of Farooq's corpse in the newspaper. Khan said his son was a baker, not a foreign militant. He has asked a court to exhume the body.
Whatever the truth may be, Khan's anguish is a sad daily fact of life in Kashmir, the Himalayan province where armed resistance to Indian occupation has dragged on for 15 years.
The conflict has claimed tens of thousands of lives - more than 3,000 last year alone, a quarter of them civilians, according to the Public Commission on Human Rights, an independent advocacy organization.
"We are dying," said Mohammed Yasin Malik, chairman of the Jammu and Kashmir Liberation Front, which opposes Indian rule. "The international community is a silent spectator. We don't have oil wealth, so the world has little reason to intervene."
Few international disputes rival that over Kashmir for complexity and intractability. Occupied by Pakistan and India for more than half a century, Kashmir assumed even more ominous importance after the rivals tested nuclear weapons in 1998.
Now, under international pressure to stabilize the fragile region, India and Pakistan are making tentative plans to negotiate a solution. A six-month-old cease-fire appears to be holding along the border, and the neighbors have agreed to hold talks this summer.
Improved relations with Pakistan have buoyed the electoral prospects of Indian Prime Minister Atal Bihari Vajpayee, whose ruling National Democratic Alliance is expected to retain control after three weeks of nationwide voting ends May 10.
Yet so many summits have failed that few are optimistic this one will be any different.
"There is much talk of transformation, but there is so much mistrust that you take one step and you're no longer on solid ground," said Muzaffar Hussain Baig, finance minister of the state of Jammu and Kashmir, the region's full Indian name. He speaks from experience: He now limps after surviving a grenade attack at a campaign rally April 8 that killed nine people.
The feud over Kashmir dates from 1947, when newly independent India was partitioned into Hindu India and Muslim Pakistan. Kashmir, a predominantly Muslim region with its own language, was ruled by a Hindu prince who vacillated over which country to join.
Then Islamic tribesmen from Pakistan invaded and occupied Kashmir's northern third. The prince cast his lot with India, asking for help, and forces loyal to New Delhi occupied the more populous south.
The first India-Pakistan war ended in 1949 with a U.N.-brokered cease-fire, establishing a line dividing Kashmir. A U.N. resolution called for Kashmiris to vote on the region's fate, but the referendum was never held.
Another brief war broke out in 1965. In 1972, the two sides signed an agreement to resolve the dispute bilaterally, but both refused to budge and became deeply entrenched along the 475-mile Line of Control that divides the Indian and Pakistani sections of Kashmir.
Amid the stalemate, an armed conflict erupted in 1989 in Indian-occupied territory.
Originally a nationalist movement, the militancy was usurped by Islamic extremists waging a "holy war" to drive India out of Kashmir. India calls it a proxy war directed by Pakistani-supplied terrorists; Pakistan calls it an indigenous uprising of Kashmiris frustrated by years of Indian oppression.
While never admitting it provided anything other than political support to the Kashmiri separatists, Pakistan was forced to restrict the activities of cross-border militants after the 9/11 attacks. But the groups still operate underground, experts say.
"Pakistan has put intervention in Kashmir on hold, but it has not abandoned it," said I.A. Rehman, director of the Pakistan Human Rights Commission in Lahore.
India has taken advantage of the cease-fire to step up attacks on militants and build a 12-foot electrified fence on the Line of Control to prevent infiltration.
Increased cooperation and other "confidence-building measures," such as the recent well-received series of cricket matches between the two national teams, has raised hopes for more dialogue.
Still, Kashmir is far from peaceful. Srinagar, capital of the Indian-occupied territory whose gorgeous landscape drew droves of tourists in peaceful times, is heavily militarized by Indian troops.
Uniformed security forces cluster at nearly every intersection, protected by razor wire-shrouded fortifications.
A brick bunker built in front of a cinema destroyed by militants bears a sign erected by security forces. It contains a poetic lament in Urdu that says in part: "We could have entered your souls, but you never accepted us as your own."
There appears to be little public support for the Indians in Srinagar. "India came up here to liberate us and then they became an occupation army," said Sheikh Nazir Ahmand, general secretary of the National Conference, Kashmir's largest political party. Many Kashmiri parties advocate boycotting the current elections to send a protest message to New Delhi.
Reports of violence are so routine they are often consigned to the last pages of local newspapers. So many groups have motives to kill - Indian security forces, Islamic extremists, pro-Indian paramilitary, rival politicians - that some deaths are attributed to "unidentified gunmen" and left at that.
But two Kashmiri civilians a day died last year, many of them hapless victims caught in the crossfire after being dragooned into service as porters for the security forces, according to the Public Commission on Human Rights.
Dozens more disappear and then turn up dead, counted by the security forces as militants. Such was the case with Farooq Ahmad Khan, the 22-year-old baker, said Pervez Imroz, a lawyer who heads the commission
"This is the pattern here," he said. "Noncombatants are killed, and security forces claim they've killed foreign militants."
India has a great incentive to ascribe more of the casualties to foreign militants: To the world and its domestic audience, it portrays the Kashmir conflict as strictly an external affair, directed by Islamic extremists based in Pakistan.
But political leaders here stress that they share little with the foreign militants, who practice a fundamentalist form of Islam incompatible with the moderate Sufi Islam that predominates in Kashmir.
"We're now in the position where our struggle is being labeled as religiously fundamentalist, and that's simply not true," said Mirwaiz Omar Farooq, an opposition political leader who is chief cleric at one of Srinagar's largest mosques.
"As a Muslim leader, I can tell you it's a totally political struggle. But India has been able to portray the struggle as terrorist and Islamist."
A critical problem in Kashmir is that there is no consensus about a path to resolution. Both Pakistan and India are under tremendous pressure from domestic hard-line groups to not relinquish any ground.
Indeed, Kashmir has assumed enormous symbolic importance in both countries. Pakistan insists the Muslim-majority region belongs in its orbit and says the uprising is justified by years of abusive Indian occupation. India says it has strong legal and historical ties to Kashmir and fears that liberating it would embolden separatists in other regions, disintegrating India's federal government, the Indian Union.
This month, negotiators got a sample of the obstacles they will face when talks opened on restoring bus service across the Line of Control, linking Srinagar and Muzaffarabad, the capital of Pakistan-occupied Azad Kashmir - Free Kashmir.
Pakistan declined to install an immigration post at its side of the boundary, fearing that would legitimize the Line of Control as an international border. India did not want to allow Kashmiris to use neutral U.N. passports to cross, since that might acknowledge that the territory under their control is in dispute. And Kashmiris don't want to travel using any passports, since they say the territory is illegally divided.
So the talks on bus service were postponed indefinitely. In the meantime, the dying continues.
Story corrected from print version