Artists try to show another side of Haiti amid political chaos
The Jacmel Film Festival offers 70 films free of charge to an isolated people starved for movies, a rarity even in the capital.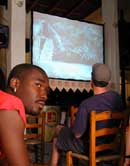 Patrons watch a screening at the Jacmel Film Festival.
JACMEL, Haiti -- It takes some fortitude to plan a film festival in a country where the central government has collapsed, the president has fled into exile, and the only international visitors are relief workers and peacekeepers.
But the Jacmel Film Festival opened July 9 in this musty city on Haiti's southern coast with only a few hiccups: An American projectionist failed to show after reading a State Department advisory warning U.S. citizens to stay away from Haiti; and a power outage temporarily darkened the screens until backup generators were found.
"We're trying to change the image of Haiti as a place of war and dictators," said Patrick Boucard, a Haitian artist born in Jacmel who organized the festival along with David Belle, a U.S. independent film director.
The retrospective of 70 films, most of them with Haitian themes, was timed to mark the 200th anniversary of Haiti's independence. But it was nearly canceled when a rebellion broke out in February and President Jean-Bertrand Aristide fled the country, prompting the United Nations to send in international peacekeepers to restore order.
"We stopped planning and were totally uncertain about where it was going," said Belle, who shuttles between homes in New York and Jacmel. After calm returned - Jacmel was never seriously affected by the rebellion - the organizers decided to forge ahead, persuading 15 foreign directors to travel to Haiti from Europe and the Americas.
"There's never been a proper film festival in Haiti, and never anything on this scale," said Belle, 32, who first visited Haiti in 1993 while working on a documentary. The 10-day festival ends today.
Boucard and Belle wanted to make the films accessible, so they are not charging admission - the festival's $125,000 cost has been underwritten by Haitian corporate sponsors and friends. The two men even commissioned taxis to drive into the mountains around Jacmel to bring rural Haitians into town.
"We're interested in showing films to people who have never seen movies before," Boucard said. Movie theaters are a rarity even in the capital, Port-au-Prince, and are nonexistent in the countryside.
"We're trying to get as many people to see [the festival] as possible," he said. "We'd like to change their idea of films, to show them that films are more than action movies."
Festival offerings include historical documentaries, short features, and full-length movies, including The Comedians, a 1967 classic based on the Graham Greene novel set in Haiti and starring Richard Burton and Elizabeth Taylor. Many were shot by Haitians and are in Creole, the local language. A few are set elsewhere but touch on themes of interest to Haitians - AIDS, environmental degradation, globalization.
The movies are playing to packed and enthusiastic houses in local schools and public buildings, where the venues may be makeshift - one was shown to an audience seated on benches, on a porch darkened by hanging sheets - but the equipment is first-rate.
"I can see in people's faces that they're enjoying it," said Ronald Demedet, 23, an artist who was serving as the doorman outside one presentation. He said Jacmel residents had been starved for movies since the only local cinema closed three years ago.
Jacmel, founded three centuries ago during French colonial times, is graced by swaying palm trees and fronts on the turquoise waters of the Caribbean. But many of its stone warehouses and wooden buildings have rusty metal roofs and are in advanced states of decay, reflecting the decline of Haiti's economy. The port now is used only by a few local fishermen.
Boucard, 48, whose prosperous family were Jacmel coffee exporters, grew up in Haiti and Mexico, dabbling in the Haitian crafts market before getting a master's degree in art in England. Last year he and his South African wife, Kate Tarratt Cross, began to restore his family's aging seaside warehouse compound into an art school.
Two weeks before Aristide's government collapsed, they opened the Jacmel Art Center, known in Creole as Fondation Sant d'A Jakmel.
Most art training in Haiti is aimed at producing painters to make the cookie-cutter primitive art aimed at the tourist market. The art center's mission, assisted by foreign benefactors and patrons, is to expose Haitian artists to international influences.
"Ours is the only painting school in Haiti that is current and contemporary," Boucard said. Fourteen resident artists work at the center.
"We're trying to make Jacmel the cultural capital of Haiti," said Boucard, who is also opening a cafe as part of the center. Next year the school plans to expand its programs into other media and bring in 25 foreign artists for teaching stints.
"Haiti is isolated, so it's important to bring in some ideas from outside," he said.
The same idea motivated the film festival - to expose Haitians to other points of view.
"Fifty years of dictatorships and terror have had a lot of effect on Haitians," said Boucard, who stays out of Haitian party politics because it is so perilous.
"We're working on a small scale here. People may see how things are done in other places, and maybe things here will start changing."