Andrew Maykuth Online
The Philadelphia Inquirer
September 20, 2003
Facing landgrab by elite, Kabul's poor turn to U.N.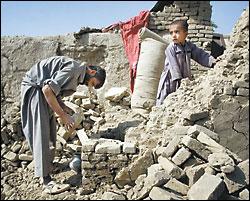 David Swanson / Inquirer
A resident of Kabulís Shirpur neighborhood works to repair damage to his home caused when the government ordered police to knock it down ó to make way for luxury villas for the well connected.
KABUL, Afghanistan - Mohammed Sediq woke up earlier this month to receive an eviction notice, Afghan style.
As Kabul's police stood by, a backhoe clawed into Sediq's house, collapsing the tin roof and mud walls, knocking over his portable TV in a cloud of dust. While children wailed and women waved copies of the Koran, the machine took a bite out of 11 other houses in the cramped enclave.
In a thin gesture of charity, Kabul Police Chief Basir Salangi gave residents 24 hours to clear out before he finished demolishing their structures to make way for a development of luxury villas.
"It's not fair," Sediq said. "We suffered under the Taliban, who were cruel people, yet they never did anything like this to us."
But this time, the demolition did not go on. Residents complained to the U.N. mission here, drawing attention to what one U.N. official called a nationwide "landgrab" by Afghan military and public officials. What might have passed as a routine exercise of local authority instead has become an international incident, and Police Chief Salangi has been fired.
The modest mud houses are located in a corner of the old Shirpur military base next to Wazir Akbar Khan, one of Kabul's most exclusive neighborhoods. Earlier this year, the defense ministry abandoned Shirpur, divided it into 55 plots, and sold them to high-ranking officials at giveaway prices. The lots included the land on which Sediq and his neighbors have lived for a quarter-century.
"The procedure they followed was completely illegal," said Miloon Kothari, a special housing rapporteur for the U.N. Commission on Human Rights. "What has happened in Shirpur is a small example of what is happening across the country."
The real estate scandal has become a crisis for President Hamid Karzai's government, which is struggling to confront a resurgent Taliban, the hard-line Islamists ousted by a U.S.-led coalition two years ago for harboring Osama bin Laden. Now fighting as a guerrilla force, the Taliban portrays the new regime as unconcerned about improving life for ordinary Afghans.
"Incidents like this seriously affect the credibility of this government," Kothari said. "Unless this land-grabbing is arrested, you're sowing the seeds for decades of conflict."
Kothari, who is Indian, has publicly suggested Defense Minister Mohammad Qasim Fahim and others should be removed from office for profiting from the land sales. The United Nations is now distancing itself from Kothari for his undiplomatic move of naming names.
"Special rapporteurs are independent experts, so they speak in their own capacity, in their own name," said Manoel de Almeida e Silva, spokesman for the U.N. Afghan mission. "We do not really share all of the views expressed by him."
Kothari does not appear to be far off target.
While millions of displaced Afghans are living in camps or makeshift housing, human-rights officials in Kabul, Herat and Kandahar said entire neighborhoods were being constructed for commanders on what was once public land. In Kandahar, the United Nations delayed a project to build low-income houses because a commander had taken over the land for himself.
In some cases, refugees returning to their homes have found them occupied by commanders who refuse to leave, said Zia Langari, a member of the Afghan Independent Human Rights Commission. "We can't do anything," Langari said. "We just write about them in our newsletter."
The practice of selling government land to powerful people was discussed by Karzai's cabinet this year, though there apparently was little debate about the propriety of the deals.
"I was one of the people who was against it," said Yusuf Pashtun, the governor of Kandahar who was the minister of urban development until last month. "I'm still against it."
Pashtun said Defense Minister Fahim presented the cabinet with a plan to subdivide the Shirpur land. Pashtun said he argued that rather than giving the commanders title, the government should provide housing for officers on active duty. But, he said, he was outvoted.
The government sold 4,300-square-foot lots to the officials and commanders for about $1,000 each. Kothari said some were resold for more than $80,000 in Kabul's hot real estate market, hyped by the influx of thousands of foreign journalists, advisers and aid workers.
Pashtun blamed the landgrab on the defense ministry, which is dominated by ethnic Tajiks from the Northern Alliance who initially liberated Kabul. But he acknowledged that the same thing was going on in Kandahar, where the military is dominated by ethnic Pashtuns.
"We're developing a kind of land mafia," said the governor, who ordered an investigation of the alleged improprieties.
The Shirpur case stands out because the authorities literally bulldozed residents to make room for their new houses.
The demolition crews have left few traces of the Shirpur fortress and its six-foot-thick walls, made famous in the 19th century when Afghan hero Wazir Akbar Khan captured the garrison from British occupation forces. Where the historic structure once stood, workers are building two-story houses behind new masonry walls.
Gul Haidar, a prominent mujaheddin commander, watched as a diesel shovel excavated the basement on one lot. He said he was only observing, though he hoped one day he would get a plot for himself.
"The government decided to distribute the plots to people who deserve them," Haidar said. "It wasn't just commanders who got them but cabinet ministers, too. I'm on the list. Maybe they'll give me a piece of land."
Near the rear of the former base, on a space not much larger than a single lot of the new development, sits a tight cluster of 12 homes built around narrow walkways and tiny courtyards. Most of the residents of Shirpur worked at the base in the 1970s when they built their houses on unused land next to a junkyard where wrecked vehicles were dumped.
"They just let us build our houses here," Sediq said. The residents did not think to ask for clear title to the land.
The houses are simple, with outdoor latrines and crude electrical connections. Over the years, households have expanded, and now 30 families, about 250 people, live in 12 houses.
Six months ago, defense ministry officials told the residents they would have to move and promised to help them find new land. But help never came, and residents were turned away when they visited outlying districts to look for new land.
The residents said they had no warning before Police Chief Salangi, a renowned former mujaheddin commander, staged an assault with earthmoving equipment and 100 baton-swinging officers early on Sept. 3.
Then it occurred to someone to complain to the United Nations. If the presence of international troops has achieved anything here, it is the increased expectations of Afghans that they actually may get a democratic government one day.
Much to the residents' astonishment, the peacekeepers responded by positioning troops in view of the neighborhood. The demolition was halted.
"If the U.N. didn't defend us, we wouldn't be here any longer," said Rahmad Shah, 43, a community leader.
Even more surprising, a delegation from several ministries and President Karzai's office visited last week and asked the residents what the fuss was about. The residents said they would like to stay in their houses and receive clear title to the land.
"This would be justice," Shah said, "if they gave land for us poor people to live among the wealthy."